As the country remembers the events of 9/11, I can't help but think about my husband, who is currently at his September reserve duty this weekend preparing for weapons qualification, or my cousin, who is preparing to ship out to Kuwait this week. 9/11 affected everyone very differently, from those who say it was no big deal and they're over it to others who still cannot get through a day. For me, I'm fine on most days. I walk past Ground Zero everyday to and from work. The one thing I can't do is watch the TV programming surrounding 9/11.
Everyone needs to remember that even though we are pulling out the combat troops, we are still sending our men and women overseas to continue to support our peace efforts. As I talk to people, that is a huge misconception that I feel the media and government are not making too clear.
Every year on 9/11 I repost the events of that day from my point of view.
Pre-9/11
9 years ago, I was a naive 25 year old living in Manhattan. Still a fresh faced Midwestern transplant who had only lived in the big city for 10 months. In July 2001, my mom and sister had just come out for a visit. It was the first time my mom had visited me in the city. In September 2001, my two roommates and I had just found a nice apartment in Washington Heights and were slowly finding ourselves with new jobs. I was working in the corporate office of a popular retail store full time. Their office was on 38th Street in the shadow of the Empire State Building. On August 20, 2001, to earn some extra money, I started working part time in the evenings with a payment processing company. Their office was on Dey Street, which was across the street from the World Trade Center. When arriving to my evening job, I would exit from the Cortland Street subway station, which brought you into the lobby of one of the World Trade Center towers. There was a cool Halloween store near the exit that I wanted to peruse in the coming weeks. On September 10, 2001, I was offered and accepted a full time position with the payment processing company. I left work at 11:00 pm...
September 11, 2001
It was a Tuesday and a beautiful fall day. The temperature was comfortable, the sun was out, and not a cloud in the sky. Around 8:50am, I exited the subway on 42nd Street and 6th Avenue. As I walked down 6th Avenue, a thought popped into my head... the next time my mom comes out to visit I should take her to the World Trade Center.
By the time I got to my desk on the 8th floor, it was just after 9:00 am and the second plane had already hit the south tower. Of course this was the topic of conversation for everyone. I had a little radio on my desk so I turned on the news station to try and follow what was going on. Not long after we heard about the plane that hit the Pentagon. I immediately started to try and call my family in Michigan to let them know I was ok. The first person I could get a hold of was my sister. She was at work in a retail store and they hadn't heard what happened yet. I quickly told her what I knew and for her to let people know that I was ok. I was then finally able to contact my mom. One of her co-workers had a child who worked at the Pentagon so they were both trying to figure out what was going on. I assured my mom that I was ok and to let everyone, who had been calling my mom all morning, know that I was safe.
Like so many of the companies in the WTC towers, my company told us to stay in our offices. After both of the towers fell, my thoughts turned to my co-workers at my second job. Their office was across the street. Were they ok?
Eventually I was able to get a hold of one of my roommates, Michelle, who worked 4 blocks north by Grand Central Station. My third roommate, Nicci, was scheduled to work a second shift at a bookstore that day and safe at home. By this time Manhattan was on lockdown. No one was entering or leaving the city by any type of vehicle. This included the subway, which had stopped running.
Since we lived over 140 blocks north, we decided we might as well start walking toward home. We had some friends who lived on the way that we stopped to make sure were also ok. When we got up to 102nd Street, we heard the subway running again and were able to take the train the rest of the way home. It wasn't until we were able to watch the news reports on TV that evening that we really realized the extent of the damage and loss. I did not lose anyone, but I know many people who did lose a friend and/or family members.
The Days and Weeks Following
The rest of that week was a blur. My company closed their offices on Wednesday. On Thursday, we were evacuated around noon because of a bomb scare. On Friday my company closed their offices again. The next week I finally heard from my other employer. They had been able to relocate to a temporary disaster recovery location in Englewood Cliffs, NJ. A few weeks later I started working there full time as planned.
The city was very jumpy for a while. A box truck was stopped and search on the George Washington Bridge because there was a suspected bomb threat. Two months later, a plane destined for the Dominican Republic crashed in Rockaway, Queens shortly after take off from JFK airport. Manhattan immediately went on lockdown again.
It only took 6 months for the crews to remove all of the debris from Ground Zero. In 2002 we moved back into our Dey Street office. New York got back to normal... with the exception of a big hole in everyone's minds and hearts.
9 Years Later
Today, I am 34 and still with that payment processing company. Although we've gone through some changes over the years and are now a part of a publicly traded corporation. We've relocated to the East side by the Brooklyn Bridge. I am now married, live in Jersey City, and expecting our first child. Two of my grandparents have passed away. Friends have married and had babies. I have more of an awareness about me. But that day will always stay the same. The day that changed our nation forever. The day that started the journey of so many men and women sent overseas to defend our freedom.
I was there that day. I was proud to be an American before 9/11 and I am still proud to be an American today.
God bless the U.S.A and keep our troops safe!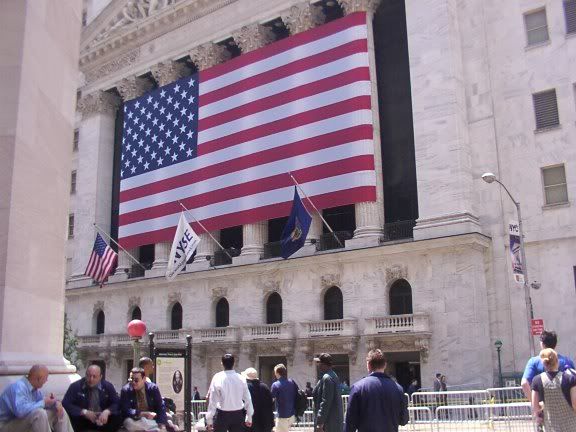 My thoughts and prayers are with all 9/11 survivors and their families and friends.
~AKO